CLICCA QUI PER CERCARE LO SPRINTBOOSTER PER LA TUA AUTO
ACQUISTA UN'ACCELERAZIONE INCREDIBILE MONTANDO SEMPLICEMENTE QUESTO DISPOSITIVO!
Sprintbooster, 3 programmi selezionabili

Fin dalla nascita del drive-by-wire (ECT- controllo elettronico a farfalla), si è registrato un ritardo nella risposta della farfalla equivalente ad un ritardo di accelerazione dell'auto. Questo è il motivo per cui Sprintbooster ha sviluppato un dispositivo e orgogliosamente portato il prodotto sul mercato nel 2005.

Cinque anni di successi e più di 100.000 unità dopo siamo entusiasti per il debutto dell'ultimo Booster selezionabile e programmabile Sprint al SEMA 2009.

La nuova generazione di Sprint Booster ha debuttato al SEMA SHOW 2009 vincendo uno dei premi più importanti nel settore aftermarket, il 'Best SEMA NEW PERFORMANCE-STREET PRODOTTO 2010' premio tra i 1400 nuovi prodotti dell'anno.

La nuova versione è stata anche premiata con tre 'SEMA GLOBAL Media Awards " votata da un gruppo di giornalisti internazionali provenienti da settori automobilistici di tutto il mondo (28 giudici provenienti da 16 mercati automobilistici chiave)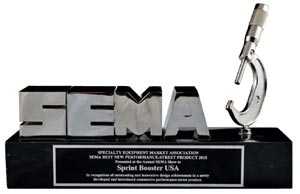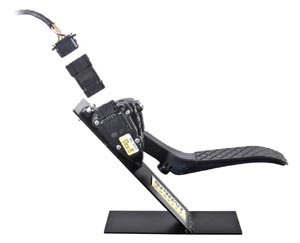 Le auto nel 21 ° secolo hanno sostituito la tecnologia più convenzionale del cavo con valvola a farfalla con un ECM (modulo di controllo elettronico) che traduce la corsa del pedale in segnali elettronici per fornire potenza alle ruote.

Il sistema di ETC (Controllo valvola a farfalla elettronico) - anche conosciuto come drive-by-wire - ha lo svantaggio di risposta del gas in ritardo e accelerazione graduale , creando problemi in determinate circostanze, come ad esempio in salita, cambi di marcia veloci, sorpassi, ecc. Lo Sprint Booster mira a superare questo ritardo nella risposta del gas per ETC, fornendo una notevole spinta in accelerazione.

Sprint Booster può diventare il "più intelligente" dispositivo della vostra auto.

È un dispositivo che migliora l'accelerazione continuamente misurando e convertendo il segnale digitale fornito dal potenziometro del ETC, e fornendo la ECM con un nuovo segnale modificato e migliorato .

Il design della Sprint Booster permette la sua facile installazione in tutti i modelli, senza la necessità di tagliare i cavi (plug in ) o intervenire nell'elettronica dell'autovettura (non va a modificare dati come l'iniezione elettronica, ABS, ecc ).

Sprint Booster si collega sul connettore pedale dell'acceleratore. Tutto quello che devi fare è scollegare il connettore OEM dal pedale e collegare Sprint Booster nel mezzo (un lato si collega al pedale e un lato del connettore OEM).


Risultati

Sprint Booster è rivolto a tutti i driver con vetture attrezzate ECT.

• A basso numero di giri, il motore risponde a circa la metà del tempo rispetto a prima.

• Il tempo di ritardo, mentre l'accelerazione in 3a e 4a marcia e il motore a metà giri, è quasi zero.

• Grandi differenze nella gamma più alta.

• Migliore risposta per la scalata di marcia e sorpasso sicuro.

• la sicurezza complessiva e più divertimento su strada!
SPRINT BOOSTER
Selectable Programming
Since the inception of drive-by-wire technology, drivers have been disappointed with the inherent throttle delay associated with the system. This is why Boulekos Dynamic developed Sprint Booster and proudly brought the product to market in 2005.
Five successful years and more than 100,000 units later we are excited for the debut of the latest Selectable and Programmable Sprint Booster at SEMA 2009.
The new generation of Sprint Booster debuted at SEMA SHOW 2009 winning one of the most important awards in aftermarket industry , the 'SEMA BEST NEW PERFORMANCE-STREET PRODUCT 2010' award among 1400 new products.
The new version was also honored with three 'SEMA GLOBAL MEDIA AWARDS' as voted by a group of international Journalists from automotive media around the world (28 judges from 16 key automotive markets)
This second generation Sprint Booster is a direct result of input provided by our partners and their customers. The entire Boulekos Dynamic family is grateful for the ideas and support our business partners have provided.
SPRINT BOOSTER is manufactured in Greece and it's been exported to more than 30 countries around the world for the last five years. It is a patented product (PCT WO2007066155), has successfully passed the TUV tests and it is certified with European Conformity type approval (EC type approval mark No e24031712).
Automobiles in the 21st century have replaced the more conventional throttle cable technology for an ECM (Electronic Control Module) that translates pedal travel into electronic signals in order to provide power to the wheels.

The ETC system (Electronic Throttle Control) – also known as drive-by-wire – has the unfortunate downside of delayed throttle response and subdued acceleration, creating problems in certain circumstances such as up-hill starts, quick gearchanges, overtaking, etc.The Sprint Booster aims to overcome this throttle response delay for ETC-equipped vehicles, providing crisp on-tap acceleration at the driver's disposal.

Sprint Booster might very well be the "smartest" gadget on your car.
It is a device that improves acceleration by continuously measuring and converting the digital signal provided by the ETC's potentiometer, and providing the ECM with a new and altered signal.

The design of the Sprint Booster allows for its easy installation in all models, without the need to cut any wires (plug n' play) or intervene in the automobile's electronics (it does not affect other systems such as electronic injection, ABS, etc.).

Sprint Booster connects on the accelerator pedal connector. All you need to do is disconnect the OEM connector from the accelerator pedal and connect Sprint Booster in between (one side connects to the pedal and one side on the OEM connector).
Results
Sprint Booster is aimed at all drivers with ECT-equipped cars, who are after a safer and more exciting automotive experience.

• At low revs, the engine responds at approximately half the time in comparison to before.
• The delay time whilst accelerating in 3rd and 4th gear and the engine in the mid-range, is almost zero.
• Big differences in the higher rev range.
• Improved response for downshifts and safer overtaking.
• Overall safety and more fun on the road